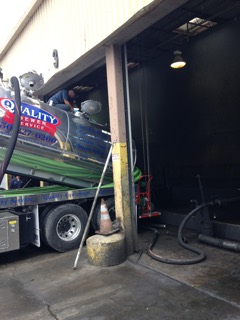 Quality Sewer Services Properly disposing and cleaning the contents of all waste in accordance with the Illinois EPA.
Quality Sewer Services has all the necessary equipment to service and maintain your triple basin system. Our trucks are equipped with vacuum pumps and hoses designed to clean and haul all debris from triple basins/oil separators. Quality Sewer Services properly disposes of all waste in accordance with the Illinois EPA requirements and the federal EPA guidelines. Quality Sewer Services vacuum truck can remove solids and prevent build-up that can obstruct proper flow and cause blockages which can lead to overflows and even flooding. Also, triple basin/oil separators systems that are not properly cleaned and maintained can allow harmful pollutants into the municipal sewer system.
Quality Sewer Services offers hydro jet rodding services in which high-pressure water is propelled into the drain line and thoroughly cleans pipe walls by cutting out hardened scale, breaking up oils, road grim, and debris. Hydro jet rodding restores drains to their original size using special designed nozzles which guide powerful concentrated streams of water directly at the pipe walls restoring proper flow and function to the triple basin/oil separator system.

Triple Basins (Oil and Water Separator) full prior to vactoring and cleaning

Triple Basins After Vactoring and Cleaning
Quality Sewer Services can assist you with all your triple basin/oil separator drainage needs whether you are in need of immediate service or just interested in performing maintenance or repairs to your system. A Quality Sewer Services representative can schedule an appointment for you at your earliest convenience. Please call 847-259-0200 or 630-227- 0200.
Emergency services also available 24 hours a day, seven (7) days a week.